Mobile Saw Milling Services from Maroochy Tree Service, Sunshine Coast
Maroochy Tree Service are based in Maroochydore on the and have been proudly serving the Coast for many years.  We serve throughout the Sunshine Coast and Hinterland areas and have years of experience in providing safe, efficient and effective mobile saw milling services. We are more than able to take care of your tree and saw milling requirements.
Please see our related tree removal and tree lopping for any size and type of tree.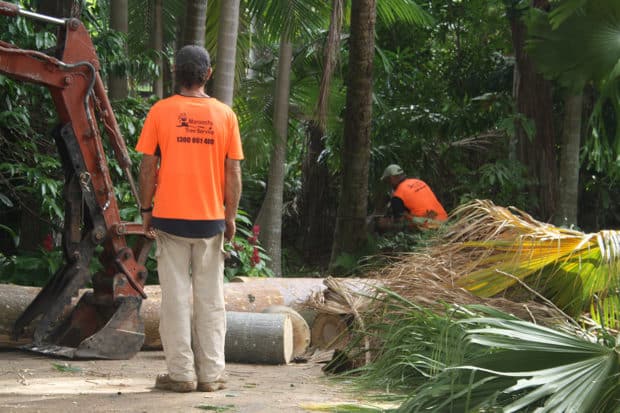 What is the process involved in Mobile Saw Milling?
For those who don't want to waste perfectly good timber it is important to undertake proper saw milling.
Any wood resulting from tree felling or lopping of large branches can be milled on site or can be taken away to be milled at a saw mill.
It is usually best to consult an experienced team like ours before attempting to saw mill trees on your own premises.
Our professional can take away any felled trees safely and quickly once tree felling and lopping work has been completed.
We undertake a professional and environmentally friendly approach to saw and tree milling, ensuring that timber is usable and not wasted.
What are the benefits of Mobile Saw Milling? 
Saw Milling can be used to efficiently recycle the wood and timber that results from tree felling and tree removal.
Once milled, the wood can be used in many ways including:
Construction Timber
Landscaping Timber
Bench Top Slabs
Wood for furniture construction
Why choose Maroochy Tree Servie Saw Milling Services?
Below are just some of the reasons to choose us for saw milling of your felled trees for timber:
We have years of experience servicing all the Sunshine Coast & Hinterland areas in Queensland.
We are fully qualified, skilled professionals.
We offer free, no obligation quotes.
Professional tree services at affordable rates.
We offer pensioner discounts.
We are fully insured for all tree services & works.
If you require saw milling for your felled treesthen please get in contact with us. Our services are professional, high quality and affordable.
Don't risk your own safety and health, let our experts help you. Contact us by calling 1300 861 400 today for a FREE quote.